For over 30 years, Icon Global Supply (IGS) has been a leading importer of premium quality disposables for the foodservice, janitorial and sanitation, industrial, and automotive industries. We are proud to be one of the oldest and largest suppliers of single-use woodenware in North America. IGS' products are sold and marketed under the "Fresh Impression" brand, but we offer custom packaging and private label branding to meet any need.
With distribution centers in Vancouver, Montreal, Los Angeles, Hanover and Jacksonville, IGS serves a diverse range of clients throughout Canada and the US, from independent small businesses to international chains, broadline distributors, and major food processors.
IGS offers a wide variety of products imported from Asia and Europe spanning several categories including woodenware, paper products, cleaning supplies, personal protective equipment, and eco-friendly foodservice disposables. All of our products meet the highest food safety standards in North America.
With over 100 years of combined management experience in global trade, woodenware and disposable supplies, IGS has earned an industry leading reputation for quality, speed and reliability by leveraging our vast procurement expertise, unparalleled quality control and excellence in managing supply chain partners. We provide you with best-in-class consistency and service so you can focus on growing your business.
IGS is proudly family owned and operated, and certified by CAMSC as a minority supplier.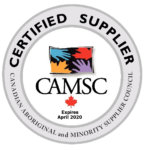 Our Purpose, Mission & Values
Purpose
To connect businesses to the global marketplace
Mission
To provide foodservice businesses with fast, flexible and reliable access to a global selection of premium quality disposables made from renewable resources so that customers benefit from greater choice and solutions tailored to their specific needs
I

nitiative

C

ollaboration

O

penness

N

imbleness

For our Customers

Proactively deliver service that exceeds expectations
Be a trusted advisor and provide tailored solutions
Be honest and transparent in our dealings
Be responsive and flexible to adapt to changing needs

For our Colleagues

Set ambitious goals and motivate each other achieve them
Break down silos and foster healthy  relationships
Be open-minded and authentic
Learn quickly, be decisive, and act swiftly

For our Company

Drive change to make our company better every day
Coordinate effectively and efficiently to drive results
Create a safe space for people to thrive in
Question the status quo and don't be bureaucratic
Industry leading quality control
Products made in facilities that meet ISO9001, ISO13483, HAACP and GMP standards
Fully independent on-site quality assurance staff to monitor the manufacturing process end-to-end
Rapid and cost-effective service
Strategically located distribution centers throughout North America
Same day order fulfillment, with over 95% of orders shipped within 24 hours
Best in class flexibility
Client friendly policies makes us easy to do business with
Ability to tailor solutions by leveraging longstanding relationships with top manufacturers
Compliance with the highest food safety standards
Products approved by the Canadian Food Inspection Agency (CFIA) and certified by the BRC food safety initiative
Business moves at the speed of trust, and we pride ourselves on building lasting partnerships with our clients and supply chain partners
Reliability and Consistency
Excellence in managing supply chain partners and inventory
Ability to anticipate and absorb disruptions and seasonal volatility, resulting in an over 99% order-fill rate